One of our destinations for a short trip last March was Strasbourg. There are no direct flights to Strasbourg from Malta, therefore we flew to Baden-Baden, Germany and drove to Strasbourg. We had hired a car with Sixt, since the French city is only an hour away from Baden-Baden. Another alternative to driving is to take a bus, which is located just outside the terminal of the airport. This was my second time at the airport of Baden-Baden, which is a fairly small one.
The following are some places we visited and which are recommended that one visits when in Strasbourg:
1. The European Court of Human Rights and the European Parliament 
Personally, (as nerdy as this sounds!) visiting these two buildings was my main reason why I wanted to visit Strasbourg. They are within walking distance of each other. The European Parliament is free to visit and is a guided tour. There are specific times when the tour is given in English. If you are planning a visit, it is best to consult their official website.
2. Petite France 
One simply can't visit Strasbourg and not visit Petite France. It is a cute little neighborhood full of nice houses. The quarter is surrounded by a canal and has a very charming, romantic feel to it.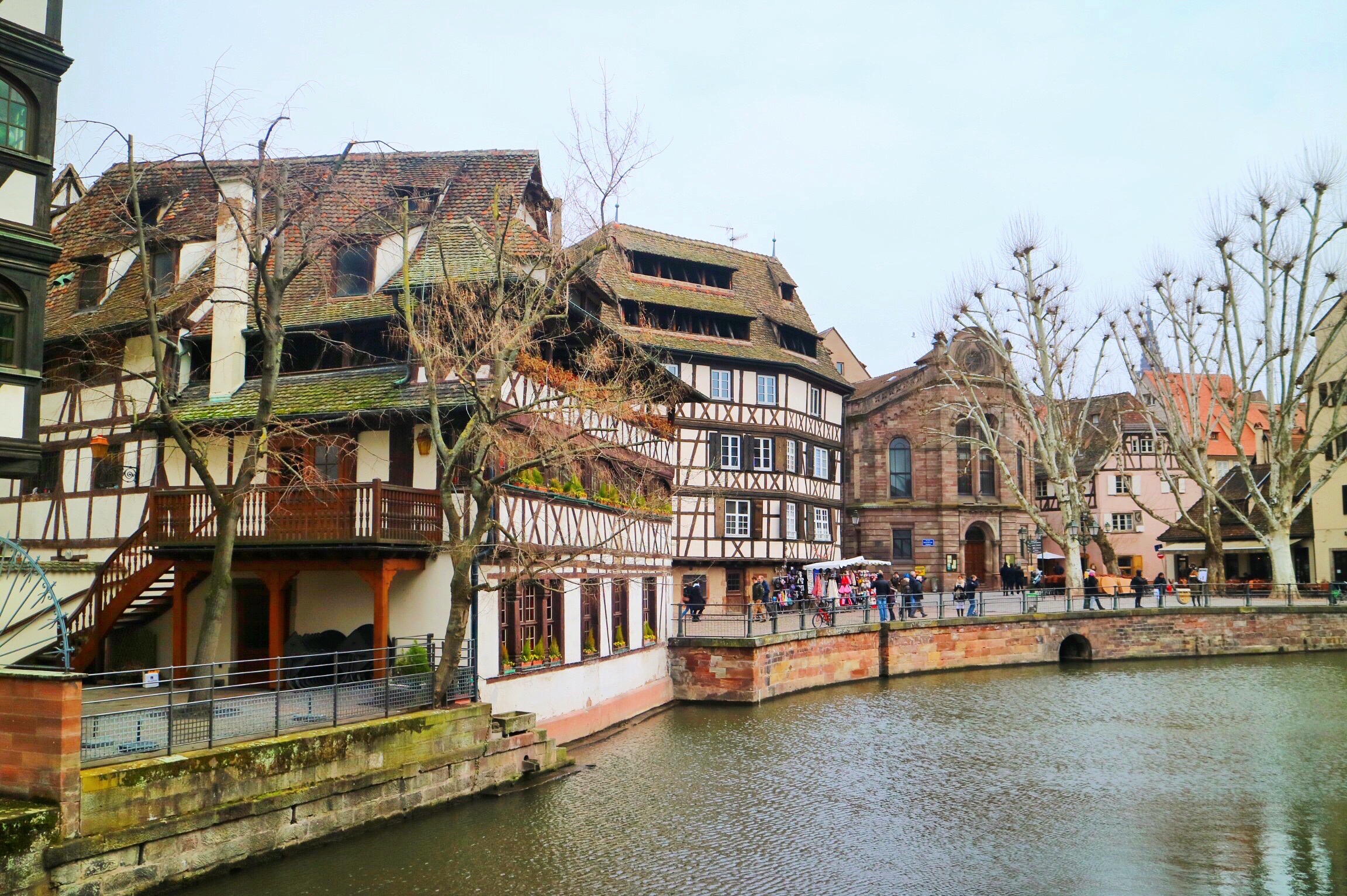 3. Place de la Republique
Place de la Republique is one of the main squares of Strasbourg. It's surrounded by a number of interesting buildings ranging from Palais du Rhin to the National Library and the National Theatre.
Theatre national de Strasbourg 
4. Cathedral of Strasbourg
Apart from looking massive and impressive the Cathedral has a few more qualities. It used to be the worlds tallest building for some 200 years (from the 17th to the 19th century) and is yet the 6th-tallest church in the world! It also hosts the astronomical clock of Strasbourg.
In front of the Cathedral
5. Shopping
To look at shops we visited Galerie Lafayette and Rivetoile Mall. Galerie Lafayette is more intended for high-end shopping, however, the area itself is worth giving a visit and one can even find some shops like H&M. For a little proper shopping, we enjoyed more the Rivetoile Mall were we found most high-street shops.
What else is there to say? Strasbourg is increasingly popular with younger tourists, featuring French small-town charm without massive tourist crowds, traditional French cuisine and a diverse history. It's affordable and a destination that can be visited all-year.
Any other ideas of places to visit? Own experiences? We'd love to hear your feedback 🙂