There's hardly any country that fascinates me as much as Singapore does. So earlier this year we agreed we wanted to go on vacation somewhere 'far away' and eventually decided Singapore would be the destination this time.
In this post, I will give you some insights that might help you plan your own trip. We will publish further posts giving information on sights, eating out and our personal experience. 🙂
Why Singapore?
… because it's very 'beginner friendly' for those who haven't been to Asia before. English is one of the official languages and there's lot of different food options available. Hotels generally have European standards.
… because there's loads to do and see. Nature lovers – thanks to Singapores 'greening policy' – will find many parks, nature reserves and gardens. There's a lot of historical buildings and many museums. Also, there's quite a few sights – such as the Singapore Flyer, the Cable Car, Marina Bay – and many more.
… because it's super modern, it's a shopping paradise and it's warm all year. It's also fairly well connected to all major regions of the world.
Short History of Singapore
Singapore and Malta – even though they are located in completely different regions of the world – share a few pieces of history and characteristics. Singapore was under British colonial rule until 1963 when it was merged with Malaysia. About two years later in 1965, it became a sovereign nation. Malta gained independence just about the same time in 1964. They are both considered islands, they are both very tiny. While Malta has a size of roughly 316 square kilometres, Singapore has a size of 720 square kilometres (that includes some 130 square kilometres gained through land reclamation). However, while Malta has a population of 450.000, Singapore has more than ten times as much – 5.6 million.
Size comparison – Malta – Singapore (same scale)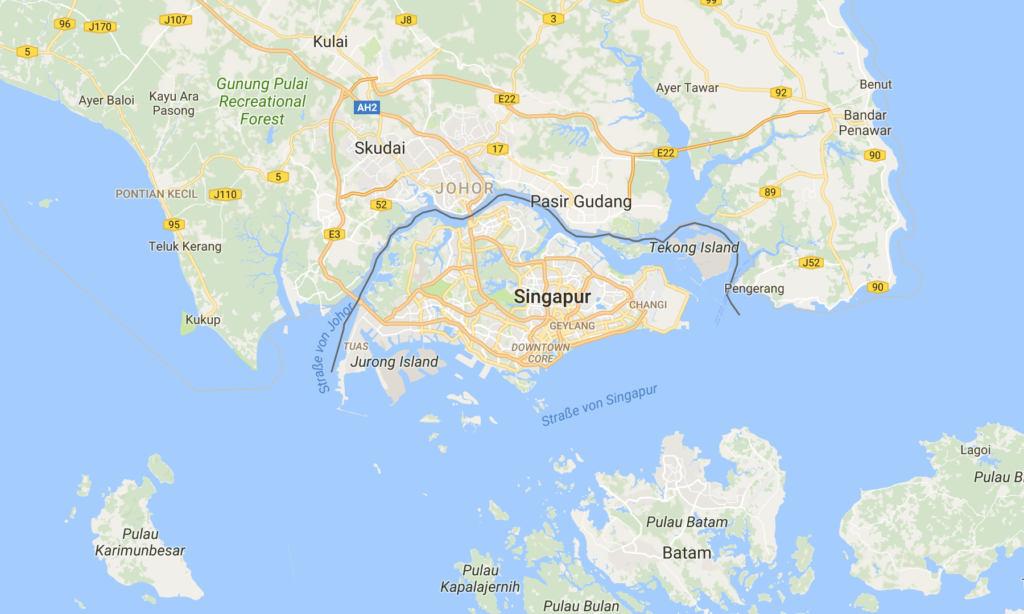 Powerhouse of Asia
Singapore is often considered as the powerhouse of Asia. It currently ranks number three in the countries with the highest GDP per capita and has established itself as a hub for shipping cargo and for financial services. While it's government is considered to be strong, almost authoritarian, it's ranking very high in health care, education and is one of the least corrupt countries in the world. In addition, Singapore's justice system is considered the most reliable in Asia. Laws are very strict over there – spitting, drinking or chewing gum in public can result in heavy fines – and is actually enforced widely.
Getting to & around Singapore
We booked our flights earlier in 2017 – selecting flights with Air Malta and British Airways and connecting via London Heathrow. There are heaps of options available with very competitive fares all year. Lufthansa and Swiss are amongst the airlines offering well-timed connections from Malta. Emirates is another choice, although personally, I dislike the stop in Larnaca over a connection somewhere further north.
BA12 – Singapore (SIN) to London (LHR) – A380 (Reg: G-XLEC)
Once you arrive in Singapore you have a couple of options. Amongst the most convenient are Uber and the LRT/MRT trains. Uber is widely used in Singapore and one is available usually within a few minutes. It's cheap, convenient and often the better choice.
Pro tip: instead of using your current location always chose a hotel, mall or another significant point for pick-up and drop-off – as those usually have dedicated areas for picking up guests and can be easily found by your driver.
The MRT/LRT trains are very modern, reliable and drive rather frequently. You can either buy a Tourist Pass for the number of days you're staying which enables you to use the trains and buses (except night services) unlimited – or buy an 'ezLink' card from many stores such as 7-Eleven which can be topped up and used to pay for the bus/train based on the distance you travelled.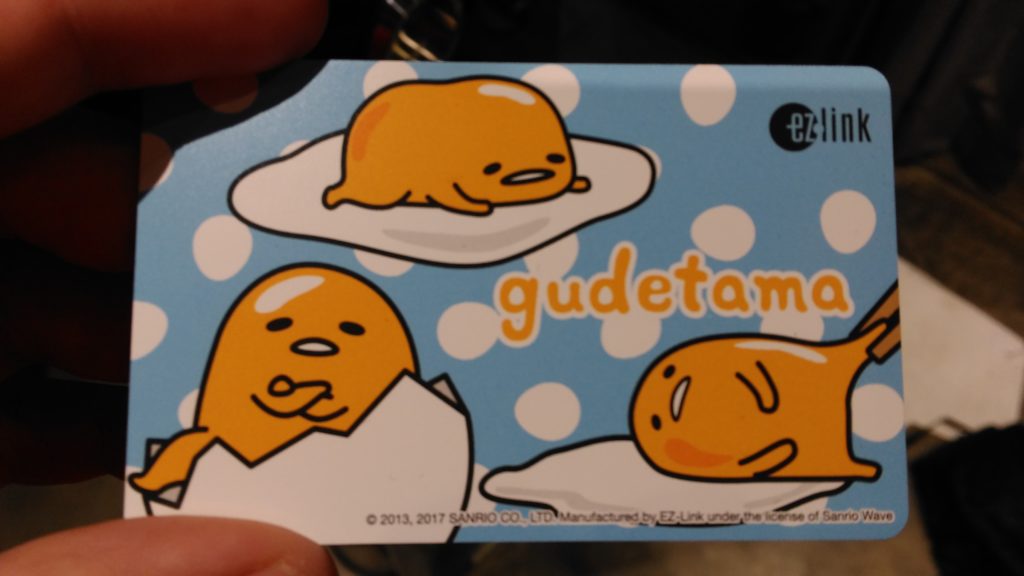 ezLink Card in gudetama design
Accommodation
There's a wide range of accommodation available in Singapore. Anything from hostels, capsule hotels, to mid-range and luxury hotels can be found. However, be aware that due to space constraints prices for any type of accommodation tend to be high (on the level of London, New York, Zurich and alike).
While Singapore is generally a safe country, I personally try to avoid booking hotels in certain areas. Geylang is one of those – at night it's a hotspot for prostitutes and pimps from all around Asia. I also wouldn't book anything located in Little India (anymore) – as the area is rather filthy. All others are usually fine, as long as you have access to the MRT/LRT.
Everything else you need to know
Currency in Singapore is the Singapore Dollar (SGD) and current exchange rate (1st Nov. 2017) is 1,58 SGD to 1,00 EUR. There are currency exchange counters at the airport which offer competitive rates (usually better than those in the city).
Electricity is about the same as in Malta. You can use your devices with the typical G-type plug without the need for an adapter.
Pro tip: SingTel offers a tourist SIM card for just 15 SGD (7 days) which can be bought to access the local 4G network with a generous data volume of 100GB. You can buy the tourist SIM at the airport (at the Travelex exchange counters for example). Highly recommended as it'll enable you to use Uber and navigation (like Google Maps) anywhere you are, access the internet and saves you from searching for free Wifi.
You'll require a few vaccinations. Some of them you'll need to pay privately (such as Hepatitis A and Typhoid). Others you should have already or will be provided by the National Immunisation Service Centre in Floriana. Call them, get an appointment, get advice! Vaccinations required might vary depending on your itinerary, so don't rely on information given on the internet only.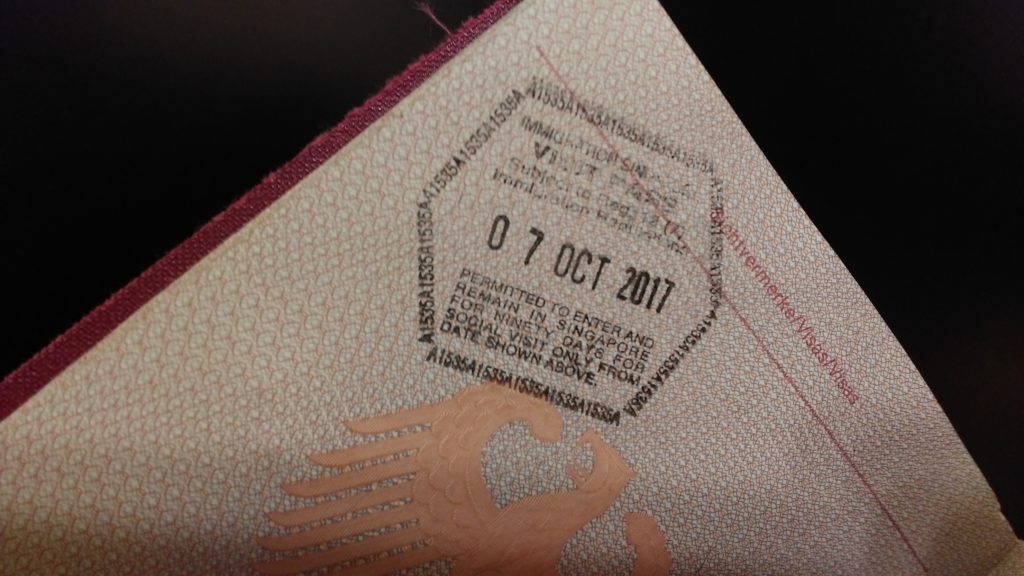 EU citizens can enter Singapore without priorly applying for a visa. You'll be able to stay a maximum of 90 days and your passport needs to be valid for the whole duration of your stay. It's recommended you have your return flight ticket at hand, otherwise, you could potentially run into issues with immigration or with your airline. Please be aware! Immigration requirements can change frequently and without prior notice. Always check requirements applying to your personal situation and in doubt get in touch with a travel agent or the relevant consulate/embassy.
Get travel insurance, as health care costs won't be covered when something happens to you in Singapore.
Alright – that's about it for our first post about Singapore. Should you have any question, remarks or want us to tell your own experience, feel very free to leave a comment! Thanks! 🙂