Disclaimer: The following is a description of our experience any comments made are purely our personal opinion. What we described doesn't necessarily apply to all airlines/flight experience at this time.  
The details
Flight: Edinburgh Airport to Berlin Schönefeld
Date: 30th June 2020 at 8.25am 
Airline: Ryanair 
The day before flying 
We received a form from the airline provided by the German Health Authorities which we needed to fill in and take with us, just in case contact tracing would be needed.
You can see the original form here.
Arriving at the airport 
Being an early flight we had to be at the airport early – it was evident that it was quiet and empty. Approaching the terminal you could see that there were new markings on the floor and hand sanitisers. 
On entering the terminal, you could immediately see that the few people around were wearing face masks. There was also a vending machine for face masks, each costing £3.50! So, really no one can have any excuse that they forgot their mask. We soon found out that, on the Tuesday that we were flying there was only 7 more flights which quickly explained why the airport was so empty. 
Check-in
We had a 20kg and 10kg check-in luggages, so we had to go to the Ryanair desk to check them in. As usual in Edinburgh, this was to be done through self-service machines. There was one personnel ready to help, in case something went wrong. The only difference here was that people kept a bit of distance from each other when queueing. As you would do usually, then you walk to the conveyer belt to send the luggage. Usually an employee helps with putting the luggage himself on the belt however, there was no one this time round – which might be due to the few flights rather than due to the situation.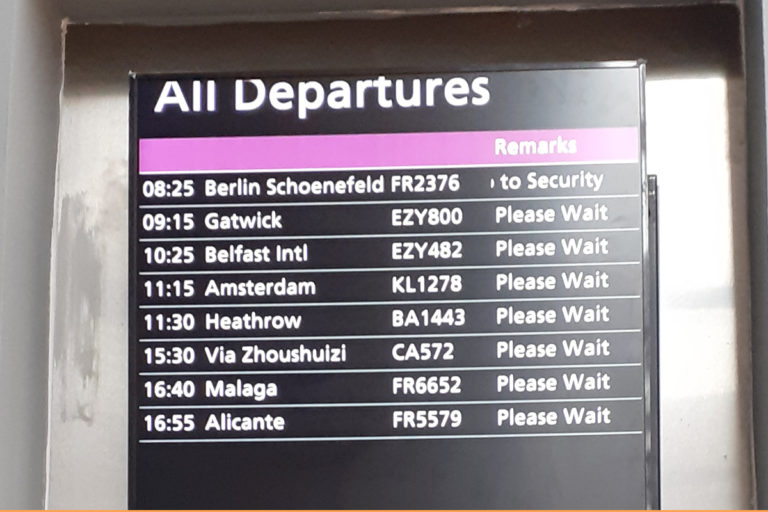 Going through security
It pretty much worked as usual here. Heading to the gates there is now barriers to keep some kind of system for people to queue before passing the gate and even more sanitisers. The only difference was that once again people were leaving a distance when queueing. We were not asked to remove masks – just the usual placing the liquids in bags and removing any electronics –  just everything done with a mask on. 
Airside 
It was a very sad sight – where once the airport would be buzzing with people having their coffee at Costa or even with those brave ones having their beer at 7am – now it was just empty and closed. The only shop open was WHSmith where you could buy drinks, sweets, food, toiletries and even more masks and hand santisers. 
When boarding was about to start, people still started to rush to gather at the gate, forming long queues with minimal, if any social distance between them. Instead of handing over the passport, we just showed it ourselves.  
The Flight 
As soon as boarding finished, cabin crew announced that wearing face mask covering both nose and mouth 😷 was mandatory for the whole duration of the flight – this was so important that they announced it three times (minimum)!  However, if you buy a beer/drink (or 3) at 8am in the morning on board, you are allowed to just sit there for 30minutes sipping it bit by bit without any face mask on! This was a bit outrageous, as the personnel immediately told off a person who didn't have his nose covered but this was totally accepted 🤷‍♀️. Speaking of which, service was as usual, the only difference was that they strictly accepted cards only (even though at times they still handled the cards themselves!) and they didn't have any hot drinks. The only coffee they had was the 'cold ready' coffee – however, they still had hot panini. Service also included the selling of the annoying scratch cards and perfumes 😂 😂!!!  
The toilets system is the only thing that I found a bit ridiculous in this whole thing. To use the toilet, you need to ask the cabin crew first to avoid forming queues in the aisle. This seemed to be a bit of a hassle, as it was difficult at times to get their attention. Furthermore, only the toilet at the back was in use – as they blocked the toilet at the front – the only apparent reason for this was to keep it solely for the crew 🙄 !! 
Arrival and overall experience
There was nothing particularly different about the arrival in Berlin. A good difference was that they didn't overcrowd the bus that takes you from the aircraft to the terminal to maintain social distancing (win-win 😆). Disembarking the aircraft and picking up the luggages from the conveyor belt was smooth and fast. And we were out of the terminal in no time. The only situation that we were asked to remove the mask was by the police at the border control (since we came from a non-schengen area) to enter Germany.    
Overall it felt like a 'usual' experience given the situation. The only significant changes were the wearing of face mask, markings on the floor and maintaining a distance when queuing. I was really anxious before the actual flight mostly because of what you see on social media! It was made to sound that everything would be so difficult and dangerous – we are aware that some people still consider flying dangerous but that is besides the point of this post. We both have families abroad whom we didn't see for long months and the only means for us to see them is by flying – besides the fact that we love travelling 😃 
I hope this posts helps some of you that for some reason or another want to travel. Our only advise is to go, enjoy yourself.  It goes without saying that you should always use common sense and stay safe – whether you are travelling or not! 
Let us know if you have any questions or if you want to share your own experience.