I'm a frequent reader of airliners.net and often get inspiration from trip reports written by other users. A few years back there was a discussion going on whether the uprise of low-cost carriers on long-haul routes would make it possible to fly around the world using cheap, most likely tickets without luggage allowance.
There's two major challenges when planning a low-cost trip around the world: the atlantic ocean and the pacific ocean – the latter one more than the first. Traditionally the long-haul market was dominated by legacy carriers such as Lufthansa or British Airways. The transatlantic long-haul routes (like London-New York) have been the cash-cows of their route networks for many years (and they still are for most of them).
More recently low-cost carriers have been starting to offer long-haul flights. Just to name some: there is Norwegian offering a lot of cheap long-haul flights from London (and other European cities), Eurowings from Cologne (and later in 2018 Munich), as well as Level from Barcelona. On the transpacific routes there's no huge low-cost market yet, but there is Jin Air flying from Seoul to Honolulu and Jetstar flying from Melbourne to Honolulu. There's also a massive amount of flights from China to major US cities like Los Angeles, San Francisco and Seattle – it's possible to find some cheap flights there but it requires some research.
The route that I worked out for this trip in an overview:
Out of simplicity we start our trip in London, but technically the trip could be planned from anywhere in Europe. As a time frame I decided to use November 2017, which is still a few months away and generally considered low season for most airlines (just before christmas travel kicks in).
In my opinion (and experience) the best way to connect cheap fares from Europe to Asia is the route via Istanbul and the Middle East. Why Istanbul? Turkey is one of the major holiday destinations for most European countries (yes, even at this moment it still is) and thus can be reached from basically anywhere in Europe. Istanbul itself is also well connected to the Middle East. Countries like the United Arab Emirates, Qatar and Kuwait are connected multiple times daily. The Middle East on the other hand is served by a number of low-cost airlines flying directly to South East Asia, to India and Sri Lanka.
So, let's take a look at the first set of flights:
We start in London (Stansted) and go to Istanbul (Sabiha Gökçen). There you could either plan to stay or directly connect to the next flight to Dubai – that probably depends on your personal feeling considering the security situation in Turkey at the moment. Pegasus Airlines is a Turkish low-cost carrier and serves many destinations around Europe and the Middle East. They also offer conveniently connecting flights at their hub in Istanbul.
After stopping in Istanbul our next flight goes to Dubai. On this route there's potential for further stops – for example in Kuwait (KWI), Doha (DOH) or Bahrain (BAH). You could also plan your route via one of these airports as all of them have further cheap flights in the direction of South East Asia.
Dubai is probably a must-visit for many travellers, however, after a few days it's also a very convenient location to continue the journey. Dubai is served by a number of low-cost carriers thus giving us different options to continue. Sometimes flying via India is cheaper, but often you'll find cheap flights via Sri Lanka. flyDubai is a low-cost carrier headquartered in Dubai and they offer flights to many Indian and Middle East destinations. They also fly to Europe and Africa, but at least in Europe coverage is not that high (yet).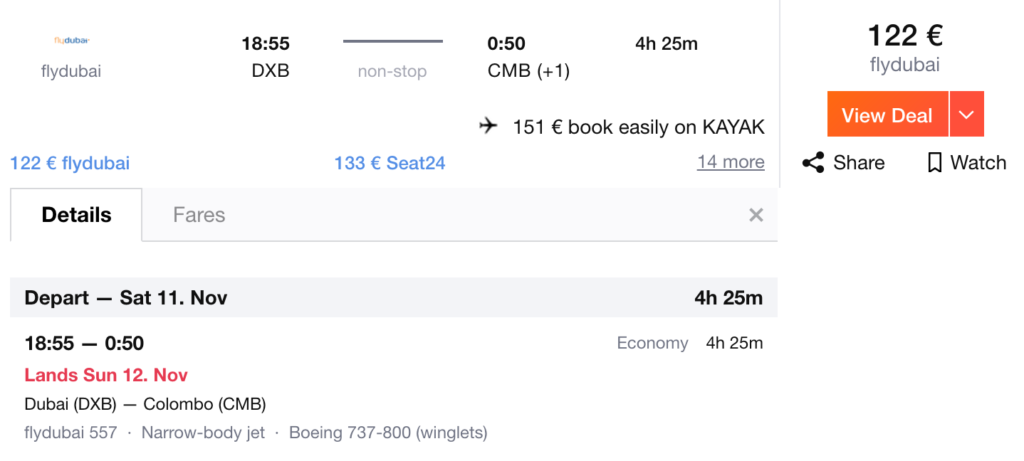 There isn't much to say about Colombo (Sri Lanka). It's a lovely destination full of culture, history and nature. It's also served by Air Asia offering two daily flights between Colombo and Malaysia's capital Kuala Lumpur. Air Asia is a low-cost carrier based in Malaysia. They offer an extensive network of routes from their hub in Kuala Lumpur.

Once in Malaysia: take your time. There's a lot of cheap flights from and to Kuala Lumpur. You might want to explore the neighbouring Thailand or Singapore – or go even further to Cambodia, Vietnam, Laos or Indonesia. Also, explore Kuala Lumpur. There's the magnificent Petronas towers and my personal favorite: the Heli Lounge which offers a spectacular day and night rooftop view of the city.
Now it's getting a little tricky. We need to pass the pacific ocean and since it's quite a long stretch the amount of cheap flights is rather limited. Use a tool like Skyscanner and search for cheap flights between Asia (China, Japan, South Korea, etc) and the USA.
When I did that I quickly found a flight from Hangzhou to Los Angeles. Okay, Hangzhou is not a prime destination, but China for sure is. You can easily adjust the route to visit further Chinese cities or even travel by land. Hangzhou can be reached using different ways: either go to any other major Chinese city and book one of the comparably cheap domestic flights – or use the direct route from Kuala Lumpur offered by Air Asia.
The flight I found in this case is operated by Sichuan Airlines. Sichuan is still quite new to the long-haul market. Until 2012 the airline offered regional flights only – and even today Sichuan is just flying to a small number of international destinations. The route to Los Angeles was established in 2016.
Once in Los Angeles to major part of this trip is done. Within the USA there's a huge amount of possibilities on how to plan your route. I personally would want to visit Chicago and New York, so I looked up the following flights: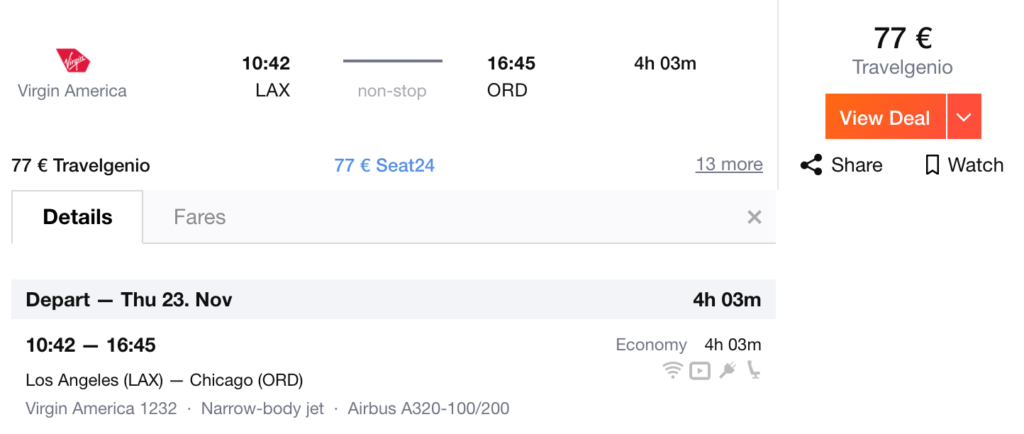 You can add as many cities as you like: visit Boston or Washington or maybe even New Orleans or Dallas. There's really a lot of potential and this bit requires your own thoughts and creativity.
After visiting these cities it seems like it's about time to head back home. There's a couple of airports that have a low-cost connections to Europe. New York JFK is among them with Norwegian offering flights to London, Copenhagen, Oslo, Stockholm and Paris. In case you're staying close to the west coast: Los Angeles and Oakland also offer a quite decent selection of cheap flights to Europe.
However, I prefer to use a search engine like Kayak anyway to make sure they offer the cheapest flights. On another note: always try to book directly with the airline. It makes rebooking or changing the flight a lot easier when the need arises.
After we arrive back in London it's time to look at the total costs and the different cities that will be visited with this route.
The total of all flights is 974,47 EUR and they cover a distance of roughly 23,000 miles. Some airlines require additional charges for luggage, as far as I could find out the prices for 20KG of luggage as follows:
Pegasus Airlines charges 6 EUR on both flights
Air Asia charges 15 EUR for Colombo to Kuala Lumpur and 17 EUR for Kuala Lumpur to Hangzhou
Virgin America charges 22 EUR (25 USD)
American Airlines charges 22 EUR (25 USD)
Norwegian charges 35 EUR
So there's another 123 EUR for the luggage in case that is needed.
Also note that some of the countries would require a visa depending on your nationality and length of stay. Since these rules differ a lot depending on various factors I can't and won't give any information about that.
While this itinerary covers just a "few" destinations, the route easily allows more stops at minimal higher costs. You could add further stops in Asia, the USA or even in the Middle East or Europe.
What do you think about this? Would it be something you'd like to do in the future? Any ideas how to improve the route? Your feedback is very much welcome!