I've been avoiding Turkish Airlines for quite a while now, not because I believe that they offer an inferior service, but because I had certain objections against flying via Istanbul and about their safety record – which while it still isn't the greatest, they've been trying to improve massively in recent years. [1] [2]
However, for the lack of other reasonable options, I ended up booking a Turkish Airlines connection from Malta to Munich via Istanbul as part of a recent business trip that I did together with Joanne.
Booking
As a web developer I must say that the Turkish Airlines website is one of the better ones on the market. It's fairly simple, very well designed and works flawlessly. We didn't have any issues checking-in online, booking and managing our flights. Only downside is, that the website sometimes reacts rather slowly and that I wasn't able to check-in multiple passengers simultaneously, even though we were on the same booking. Unfortunately the mobile app didn't work that well, it's also anything but intuitive – there I still prefer the much more simplistic mobile apps airlines like Lufthansa, Ryanair and easyJet offer.
Out of 10, I would probably rate Turkish Airlines a 7 in this category.
Check-in and Boarding
We arrived at the airport pretty much exactly two hours before departure. Check-in desks were open and we quickly managed to drop off our luggage at the check-in desk. What's great is the 30kg luggage allowance which, for two short flights from/to a European destination, is quite generous – especially considering that even the once full-service carriers such as Air France/KLM, Lufthansa and British Airways are nowadays charging extra for luggages.
A330-200 (TC-LNA) in Istanbul
Our flight started boarding rather early (approx. 10am, for a departure of 10.50am) – and with an aircraft that was just barely 50-60% full, boarding was finished quickly and efficiently. Unfortunately, even though technically the aircraft was ready to depart, a single passenger arrived late for boarding and thus we had to wait another 15-20 minutes before we eventually departed (then with a delay of 15 minutes). However, this is certainly not the airlines fault – and the decision to close the gate and unload the luggage would probably have taken the same, if not more time.
9 out of 10 for the timely boarding and generous luggage allowance.
The Aircraft(s)
On our first flight, from Malta to Istanbul, Turkish Airlines regularly deploys one of their Boeing 737-800's. We were lucky as the 737 used for our flight (TC-JZG) was delivered end of September 2016 and thus is just two years old. The newer 737's of Turkish Airlines feature the Boeing Sky Interior with larger overhead storages and a generally more spacious-feeling cabin. The aircraft was very clean and modern, way more than expected. Seats were comfortable and appropriate for short to medium distances. (10/10)
View of the cabin on the 737-800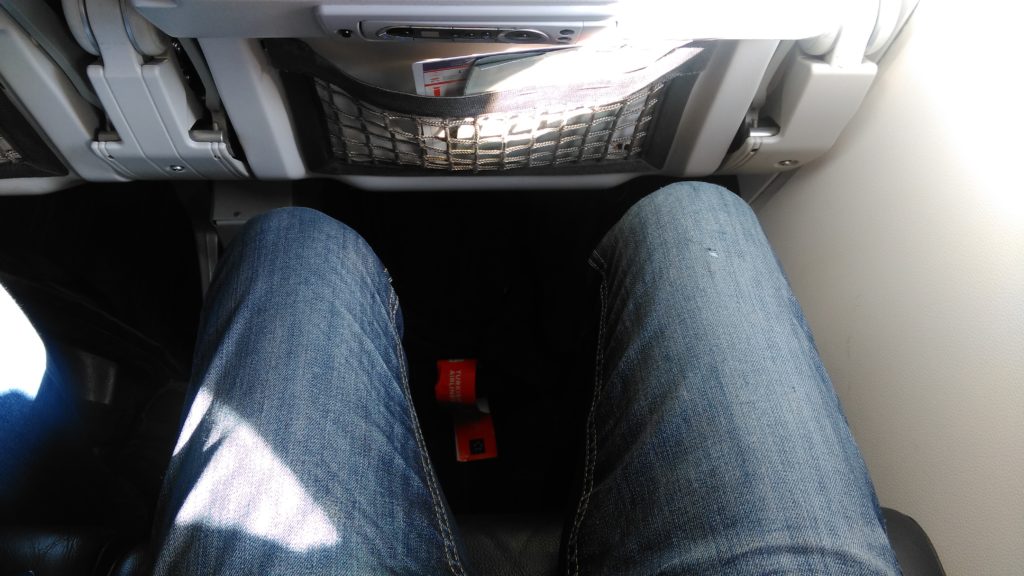 Seat space on the 737-800
On our second flight we weren't that lucky. Our flight was operated by one of the older A330-200's (TC-LNA) – delivered approx. ten years ago – and unfortunately very worn out (which is not related to the age of the aircraft, rather to bad care). Some of the seats were ripped and the last cleaning wasn't anywhere as thorough as on the 737. There has been a fair amount of dirt all around, especially under and next to the seats. The IFE wasn't working and outdated as well. (4/10)
Seat space on the A330-200
Comes down to a total of 7 out of 10 for the aircrafts.
Crew
There isn't much to say about the crew on these flights. They've been absolutely professional and friendly, though definitely not one of the most friendly crews I've witnessed on my flights so far.
8 out of 10 for a solid, friendly (but not outstanding) service.
Amenities
I've already mentioned the 30 kilo luggage allowance. It's also fair to say that even on both flights, MLA-IST and IST-MUC they served a, given the length of the flight, quite sumptuous inflight meal. They also offer a quite extensive selection of drinks. On both flights we had inflight entertainment systems, one top-notch, the other was quite dated and remained not functional for the whole duration of the flight. Unfortunately no wi-fi though (on either flight).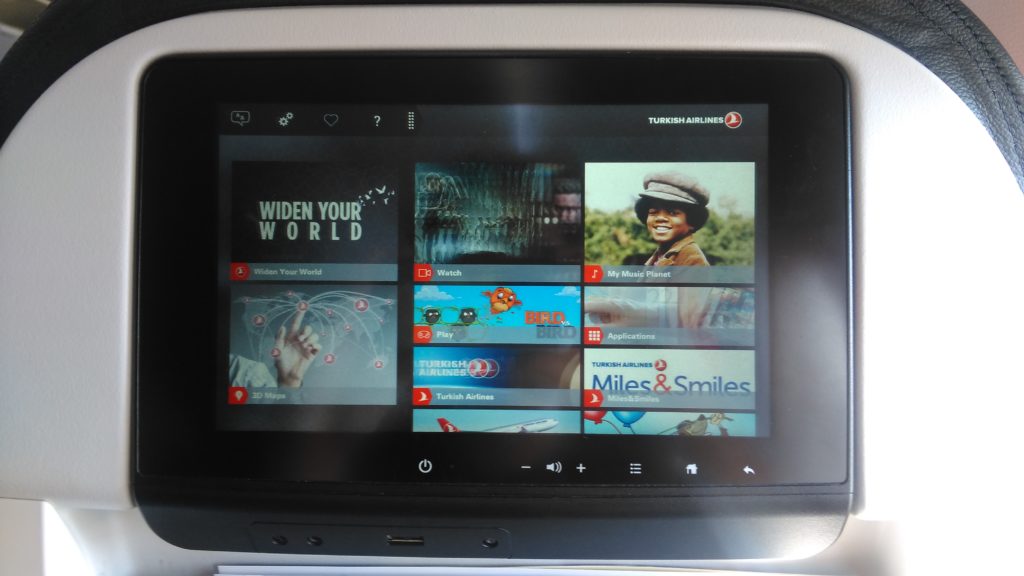 IFE on the 737-800
Turkish scores 8/10 in this section. While there are other airlines with similar offering, I'm not aware of any that offer significantly more than what I mentioned (on intra-European flights in Economy) – the only down-side (hence the missing points) are the lack of wi-fi and the non-working IFE on the second flight.
Meals and Beverages
Unlike most of their competitors (on intra-European flights), Turkish Airlines served a full hot meal on both flights – quite decent considering that both flights last barely over two hours. They offered different options (including vegetarian) and generally speaking I liked the food on both flights. Without going into too much detail, I'd easily give Turkish 9 out of 10.
Meal (vegetarian option) on the first flight MLA-IST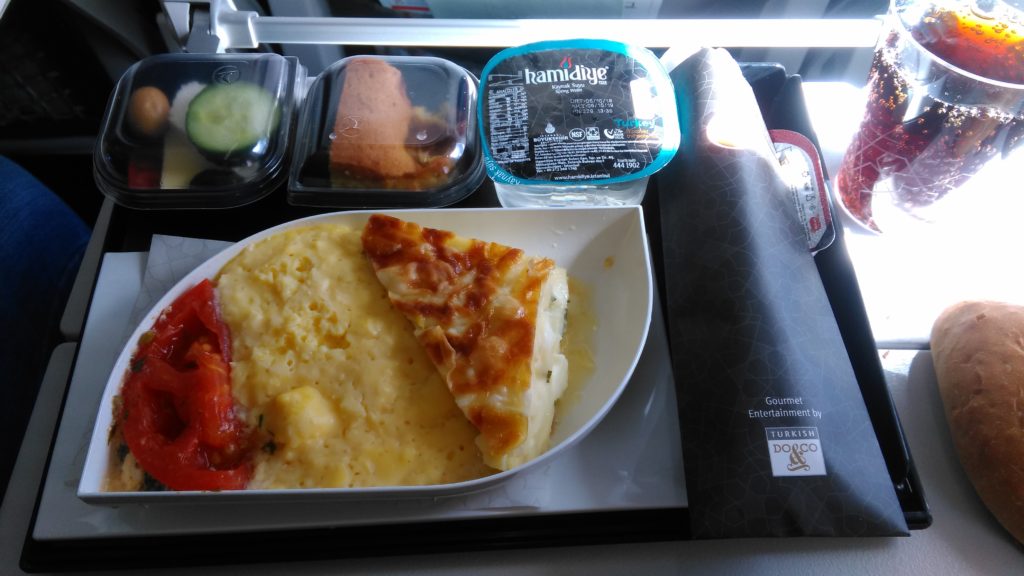 Meal on the second flight IST-MUC
Performance
I can't say anything bad about the general performance at all. Our first flight left just a few minutes late but arrived well on time. Our connection went without any issues and smoothly – and our second flight arrived a decent 20 minutes ahead of schedule.
10 out of 10 – easily.
Conclusion
Unfortunately the connection through Istanbul means quite a detour on most flights from Malta to other European destinations, otherwise I might've been tempted to use Turkish Airlines more often. I'm not sure yet whether I'd use Turkish for long-haul flights, as the experience on their A330 was in stark contrast to the prior flight. Overall Turkish is offering a very solid product that can very well be recommended especially for flights to central/northern Europe. However, I think it's fair to note that the review is heavily boosted by the experience on the first flight – looking at the second flight separately, the rating could've been lower.
A short disclaimer: I try to review in comparison to similar flights/airlines – so this flight can be seen as a comparison to other full-service carriers on intra-European flights rather than a comparison to intercontinental flights or intra-European low-cost carriers. The same meals and amenities would likely score lower in comparison for a long-haul flight due to the difference in competing airlines.
| | |
| --- | --- |
| Section | Rating |
| Booking | 7 /10 |
| Check-in and Boarding | 9 / 10 |
| Aircraft(s) | 7 / 10 |
| Crew | 8 / 10 |
| Amenities | 8 / 10 |
| Meals and Beverages | 9 / 10 |
| Performance | 10 / 10 |
| Total | 8.29 |